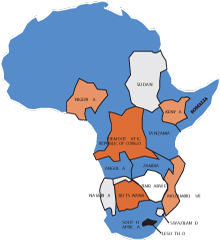 Know thyself…
An introspect on Africa by Dr RK.
In my travels abroad, I have learnt something interesting about the different views about Africa and the African identity. As soon as you get to London, Washington, Dehli, Sao Paulo, Budapest or any other capital outside the continent of Africa, you seize to be Angolan, Senegalese, Zimbabwean or any other national identity.
You are identified first and foremost as African, until you make a pronouncement of your national identity. Personally, I believe that embracing the African identity and warming up to the responsibility that comes with any citizenship, is an important start towards building a broader political, economic, social and cultural African identity.
An understanding of such shared common identity and shared common purpose will most likely set us on a path of understanding and empathy towards those who corner Africa as torn in conflict.
DID YOU KNOW?
FACT: 28 out of the 53 African states went to the polls in 2011. Amongst these were Benin, Burkina Faso, Cameroon, Cape Verde, Central African Republic, Chad, Comoros, DRC, Djibouti, Egypt, Gabon, The Gambia, Liberia, Rwanda, Sao Tome and Principe, Seychelles, South Africa, Southern Sudan, Tunisia, Uganda and Zambia.
WHAT DO YOU THINK?
Let us continue this conversation on our facebook group…